Click on the thumbnail to open the full size photo.
Click any of the thumbnails above to view the full sized photo in a lightbox.
Once opened, click on the right or left side of the images to scroll through the other images above.
Thalictrum thalictroides
RUE ANEMONE
WIND FLOWER
Synonym: Anemone thalictroides
Florida native
Endangered Florida species
Limited to moist calcareous hammocks of Leon and Gadsden Counties in Florida, this diminutive wildflower ranges throughout much of the eastern United States as far west as Texas, Oklahoma, Kansas, Iowa and Minnesota, plus Ontario.
Growing to 15 cm (10 in.) tall this is one of the early spring bloomers, flowering before the forest canopy leafs out to protect it from the intense summer sun. The white to pinkish flowers have 5 to 10 tepals on a thin stalk. What appear to be whorled leaves are actually opposite leaves each with three stemmed leaflets. The leaves are notched to form a usually three-lobed rounded shape.
The delicate structure of this plant gives it the alternate common name "wind flower" as it dances in the breeze.
---
Thalictrum thalictroides is a member of the Ranunculaceae - Buttercup family.
---
Native Florida Plants
Robert G. Haehle; Joan Brookwell
Low Maintenance Landscaping and Gardening

Purchases of this ebook made by clicking the image link below help support this website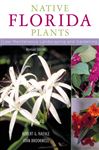 Native landscapes are easier to maintain, use less water and thrive without chemical pesticides and fertilizers. Native Florida Plants describes every type of regional flora—-from seaside foliage and wildflowers to grassy meadows, shrubs, vines, and aquatic gardens—-in 301 profiles and accompanying color photographs.
---