Click on the thumbnail to open the full size photo.
Click any of the thumbnails above to view the full sized photo in a lightbox.
Once opened, click on the right or left side of the images to scroll through the other images above.
Lycium carolinianum
CAROLINA DESERT-THORN
CHRISTMASBERRY
MATRIMONY VINE
Florida native
A frequent shrub of beach dunes, shell mounds,hammocks, salt marshes and salt flats along much of the Florida coast. The range extends along the southeastern coast from Texas into South Carolina. The sprawling, spiny branches can be up to 2 or 3 meters ( 6-10 feet) long. Alternate, spatulate, succulent leaves are 1 - 2.5 cm (3/8 - 1 in.) long and 4 - 6 mm (3/16 - 1/4 in.) wide. The pale violet to nearly white four-lobed flowers are 1 cm (3/8 in.) in width and typically appear in summer and fall, although may bloom all year in south Florida. The elliptic berry is bright red.
Lycium carolinianum gets one of the common names - Christmasberry - from the red berries that are often present in December.
---
Lycium carolinianum is a member of the Solanaceae - Potato family.
---
Native Florida Plants
Robert G. Haehle; Joan Brookwell
Low Maintenance Landscaping and Gardening

Purchases of this ebook made by clicking the image link below help support this website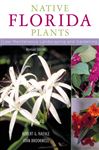 Native landscapes are easier to maintain, use less water and thrive without chemical pesticides and fertilizers. Native Florida Plants describes every type of regional flora—-from seaside foliage and wildflowers to grassy meadows, shrubs, vines, and aquatic gardens—-in 301 profiles and accompanying color photographs.
---
Atlas of Florida Vascular Plants (Institute for Systemic Botany) profile for this species
USDA Plant Profile for this species
Date record last modified:
Aug 07, 2016