Click on the thumbnail to open the full size photo.
Click any of the thumbnails above to view the full sized photo in a lightbox.
Once opened, click on the right or left side of the images to scroll through the other images above.
Aesculus pavia
RED BUCKEYE
Florida native
A frequent deciduous shrub or small tree of hammocks and rich mesic woods, sandhils, slopes, bluffs and ravines of the panhandle and the peninsula south into Sumter, Lake and Orange Counties. The range extends throughout the southeastern states, west into Texas, Oklahoma, and Missouri, north to Illinois, Kentucky - where it is listed as threatened - West Virginia and VIrginia, plus Ontario.
Red buckeye is the only shrub or small tree in Florida with palmately compound leaves of five leaflets. The leaflets are elliptic, finely toothed and 5-15 cm (2-6 in.) long. The flowers are borne in panicles and are typically red but sometimes red and yellow. The fruit is a light brown round capsule 3-6cm (1-1/8 - 2-3/8 in.) in diameter that splits open and contains several hard reddish-brown poisonous seeds.
Some consider buckeyes in the Sapindaceae or soapberry family while others separate them into Hippocastanaceae - the buckeye or horse-chestnut family. A. pavia is the only buckeye found in Florida and can grow to 12 m (almost 40 ft.) tall, although it is usually less.
---
Aesculus pavia is a member of the Sapindaceae - Soapberry family.
---
Florida Wildflowers in Their Natural Communities
Walter Kingsley Taylor
Walter Taylor's guide will help readers recognize and identify wildflowers by where they're most likely to be found growing - their natural habitat.

Purchases made by clicking the image link below help support this website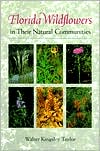 This book is the first of its kind for Florida. Taylor provides detailed descriptions and color photos of each community - pine flatwoods, sandhills, upland pine forest, scrub, temperate hardwood forest, coastal uplands, subtropical pine forest, tropical hardwood hammock, and ruderal sites - and of the wildflower species associated with each.
---