Click on the thumbnail to open the full size photo.
Click any of the thumbnails above to view the full sized photo in a lightbox.
Once opened, click on the right or left side of the images to scroll through the other images above.
Asimina tetramera
FOURPETAL PAWPAW
OPOSSUM PAWPAW
Florida native
Endemic to Florida
Endangered Florida species
U.S. Endangered species

A rare plant of scrub habitat in Martin and Palm Beach Counties.
Fourpetal pawpaw is a shrub from one to 3 meters (3-10 ft.) tall, easily the tallest of the pawpaws in the southern peninsula. Flowers appear in the upper leaf axils after the emergence of the current season's leaves. Despite the name, most plants will usually only have a few flowers with four sepals, with most having three or five. The sepals are triangular, green, and have lines of reddish hairs. The petals are maroon or white with maroon streaks. The fruit is a greenish-yellow berry to 9 cm (3-1/2 in.) long. Leaves are alternate, oblong to oblanceolate, 5-13 cm (2-5 in.) long with revolute margins, the lower surfaces pale green with raised veins.
---
Asimina tetramera is a member of the Annonaceae - Custard-apple family.
---
Other species of the Asimina genus in the Wild Florida Photo database:
View Asimina pygmaea - DWARF PAWPAW
View Asimina reticulata - NETTED PAWPAW
View Asimina obovata - BIGFLOWER PAWPAW
View Asimina parviflora - SMALLFLOWER PAWPAW
View Asimina angustifolia - SLIMLEAF PAWPAW
View Asimina incana - WOOLLY PAWPAW
View Asimina triloba - COMMON PAWPAW
View Asimina spatulata -
View Asimina x nashii -

---
Native Florida Plants
Robert G. Haehle; Joan Brookwell
Low Maintenance Landscaping and Gardening

Purchases of this ebook made by clicking the image link below help support this website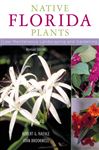 Native landscapes are easier to maintain, use less water and thrive without chemical pesticides and fertilizers. Native Florida Plants describes every type of regional flora—-from seaside foliage and wildflowers to grassy meadows, shrubs, vines, and aquatic gardens—-in 301 profiles and accompanying color photographs.
---
Atlas of Florida Vascular Plants (Institute for Systemic Botany) profile for this species
USDA Plant Profile for this species
Date record last modified:
Aug 07, 2016