Click on the thumbnail to open the full size photo.
Click any of the thumbnails above to view the full sized photo in a lightbox.
Once opened, click on the right or left side of the images to scroll through the other images above.
Lobelia cardinalis
CARDINALFLOWER
Florida native
Threatened Florida species

An occasional perennial herb of floodplain forests and spring runs from about the I-4 corridor northward. The range extends throughout the eastern United States and Canada and into the southwestern states.
This is the only red-flowered lobelia in Florida and much of its range. The bright red or scarlet flowers grow in a showy raceme. The zygomorphic flowers are two-lipped, with the lower lip often more deeply lobed than most of the lobelias. The calyx has five linear, entire and hairy lobes. The fruits are ovoid or spherical capsules with brown seeds. The alternate leaves are elliptic to lanceolate, toothed, and reduced upward. Plants can grow to 3 meters (~10 ft.) tall.
---
Lobelia cardinalis is a member of the Campanulaceae - Bellflower family.
---
Other species of the Lobelia genus in the Wild Florida Photo database:
View Lobelia glandulosa - GLADE LOBELIA
View Lobelia amoena var. glandulifera - SOUTHERN LOBELIA
View Lobelia amoena - SOUTHERN LOBELIA
View Lobelia paludosa - WHITE LOBELIA
View Lobelia brevifolia - SHORTLEAF LOBELIA

---
Native Florida Plants
Robert G. Haehle; Joan Brookwell
Low Maintenance Landscaping and Gardening

Purchases of this ebook made by clicking the image link below help support this website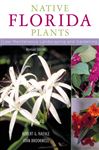 Native landscapes are easier to maintain, use less water and thrive without chemical pesticides and fertilizers. Native Florida Plants describes every type of regional flora—-from seaside foliage and wildflowers to grassy meadows, shrubs, vines, and aquatic gardens—-in 301 profiles and accompanying color photographs.
---