Click on the thumbnail to open the full size photo.
Click any of the thumbnails above to view the full sized photo in a lightbox.
Once opened, click on the right or left side of the images to scroll through the other images above.
Heliotropium angiospermum
SCORPIONSTAIL
Florida native
A frequent plant of hammocks, shellmounds and disturbed sites in mostly coastal counties of central and south Florida including the keys. The range includes Texas, Puerto Rico and the Virgin Islands, plus tropical America.
Scorpionstail is a woody shrub growing to over a meter (~3 ft.) tall. The tiny white flowers are in two ranks on curved, terminal spikes becoming 4-6 cm (1.6 - 2.4 in.) long. The corolla tube is 1 - 1.5 mm long, the inside has a yellowish eye, and the five lobes with crinkled margins grow to typically 3 mm (1/8 in.) across. The calyx is united only at the base, with 1.5 - 2 mm long trianglular, sparesly pubescent lobes.The leaves of Heliotropium angiospermum are lanceolate and entire, 2.5 - 15.25 cm (1-6 in.) long and 1.3 - 5 cm (1/2 - 2 in.) wide, with petioles over 2 mm (~ 1/16 in.) long. The stems and leaves are hirsute to strigose.


---
Heliotropium angiospermum is a member of the Boraginaceae - Borage family.
---
Other species of the Heliotropium genus in the Wild Florida Photo database:
View Heliotropium gnaphalodes - SEA ROSEMARY

---
Native Florida Plants
Robert G. Haehle; Joan Brookwell
Low Maintenance Landscaping and Gardening

Purchases of this ebook made by clicking the image link below help support this website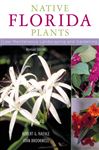 Native landscapes are easier to maintain, use less water and thrive without chemical pesticides and fertilizers. Native Florida Plants describes every type of regional flora—-from seaside foliage and wildflowers to grassy meadows, shrubs, vines, and aquatic gardens—-in 301 profiles and accompanying color photographs.
---
Atlas of Florida Vascular Plants (Institute for Systemic Botany) profile for this species
USDA Plant Profile for this species
Date record last modified:
Apr 30, 2017