Click on the thumbnail to open the full size photo.
Click any of the thumbnails above to view the full sized photo in a lightbox.
Once opened, click on the right or left side of the images to scroll through the other images above.
Conradina canescens
FALSE ROSEMARY
Synonym: Conradina brevifolia
Florida native
This occasional wildflower of sand pine scrub and sandhills is the most widespread of all the Florida and North American species of Conradina. False rosemary can be found in Highlands, Polk and Hernado Counties and from Franklin County west through the panhandle. The range also includes some southern counties of Alabama and Mississippi.
The two-lipped flowers appear in the leaf axils and are bent upward, typically half the size of the similar largeflower false rosemary. The flower can be whitish, pinkish, lavender or purple, with the lower lip being 4-9mm (3/16 - 5/16in.) long. The opposite leaf pairs are clustered so that they may appear whorled. Leaves are grayish, narrowly linear with the lower surface covered with appressed hairs. False rosemary is an aromatic, woody, bushy-branched shrub growing to 50 cm (20 in.) tall.
Conradina canescens is the only species of the genus that is not listed as either threatened or endangered.
---
Conradina canescens is a member of the Lamiaceae - Mint family.
---
Other species of the Conradina genus in the Wild Florida Photo database:
View Conradina etonia - ETONIA FALSE ROSEMARY
View Conradina grandiflora - LARGEFLOWER FALSE ROSEMARY
View Conradina glabra - APALACHICOLA FALSE ROSEMARY
View Conradina cygniflora - FALSE ROSEMARY

---
Native Florida Plants
Robert G. Haehle; Joan Brookwell
Low Maintenance Landscaping and Gardening

Purchases of this ebook made by clicking the image link below help support this website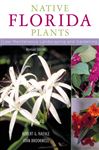 Native landscapes are easier to maintain, use less water and thrive without chemical pesticides and fertilizers. Native Florida Plants describes every type of regional flora—-from seaside foliage and wildflowers to grassy meadows, shrubs, vines, and aquatic gardens—-in 301 profiles and accompanying color photographs.
---
Atlas of Florida Vascular Plants (Institute for Systemic Botany) profile for this species
USDA Plant Profile for this species
Date record last modified:
Aug 07, 2016