Click on the thumbnail to open the full size photo.
Click any of the thumbnails above to view the full sized photo in a lightbox.
Once opened, click on the right or left side of the images to scroll through the other images above.
Conradina glabra
APALACHICOLA FALSE ROSEMARY
Florida native
Endemic to Florida
Endangered Florida species
U.S. Endangered species

A rare plant of sandhills, endemic to Liberty and Santa Rosa Counties.
This member of the mint family has linear, aromatic, evergreen leaves similar in appearance to the culinary rosemary herb. Apalachicola false rosemary grows to .8 meters (31-1/2in.) tall. The upper surface of the recurved leaves are hairless, the lower surface is covered with dense hairs only visible with magnification. Flowers arise from the leaf axils in groups of two or three. The petals are white to pale lavender-pink with a band of purple dots in the throat. Flowers are 1.2 - 2 cm (1/2 - 3/4 in.) long, sharply curved upward with a three-lobed lower lip. The main flowering season is March through June, with occasional flowering through December.
Research and conservation of Conradina glabra is being conducted as a cooperative effort of the Nature Conservancy, Bok Tower Gardens and the Center for Plant Conservation. These photos were taken at the Bok Tower Gardens endangered plant nursery in Polk County where the species is being propagated for protection and re-introduction programs.
---
Conradina glabra is a member of the Lamiaceae - Mint family.
---
Other species of the Conradina genus in the Wild Florida Photo database:
View Conradina etonia - ETONIA FALSE ROSEMARY
View Conradina grandiflora - LARGEFLOWER FALSE ROSEMARY
View Conradina canescens - FALSE ROSEMARY
View Conradina cygniflora - FALSE ROSEMARY

---
Native Florida Plants
Robert G. Haehle; Joan Brookwell
Low Maintenance Landscaping and Gardening

Purchases of this ebook made by clicking the image link below help support this website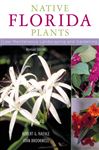 Native landscapes are easier to maintain, use less water and thrive without chemical pesticides and fertilizers. Native Florida Plants describes every type of regional flora—-from seaside foliage and wildflowers to grassy meadows, shrubs, vines, and aquatic gardens—-in 301 profiles and accompanying color photographs.
---
Atlas of Florida Vascular Plants (Institute for Systemic Botany) profile for this species
USDA Plant Profile for this species
Date record last modified:
Aug 07, 2016