Click on the thumbnail to open the full size photo.
Click any of the thumbnails above to view the full sized photo in a lightbox.
Once opened, click on the right or left side of the images to scroll through the other images above.
Zeuxine strateumatica
SOLDIER'S ORCHID
LAWN ORCHID
Not native to Florida
This annual orchid is native to Asia and now found in lawns, shrub borders, roadsides and other disturbed sites in most Florida counties. It is also now naturalized in Georgia, Louisiana, Texas, Puerto Rico and Hawaii.
A small terrestrial plant 4-25cm (1-1/2 to 10 in.) tall, with five to twelve lanceolate leaves that are green with purple and/or tan pigmentation, 1-8cm( 3/8 to 3 in.) long and up to 1 cm (~3/8 in.) wide. The flowers are white with a yellow lip narrowing at the base. There are five to fifty flowers in a terminal spike.
---
Zeuxine strateumatica is a member of the Orchidaceae - Orchid family.
---
Native Florida Plants
Robert G. Haehle; Joan Brookwell
Low Maintenance Landscaping and Gardening

Purchases of this ebook made by clicking the image link below help support this website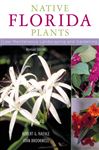 Native landscapes are easier to maintain, use less water and thrive without chemical pesticides and fertilizers. Native Florida Plants describes every type of regional flora—-from seaside foliage and wildflowers to grassy meadows, shrubs, vines, and aquatic gardens—-in 301 profiles and accompanying color photographs.
---
Atlas of Florida Vascular Plants (Institute for Systemic Botany) profile for this species
USDA Plant Profile for this species
Date record last modified:
Aug 07, 2016