Click on the thumbnail to open the full size photo.
Click any of the thumbnails above to view the full sized photo in a lightbox.
Once opened, click on the right or left side of the images to scroll through the other images above.
Coreopsis lanceolata
LANCELEAF TICKSEED
LANCELEAF COREOPSIS
Synonym: Coreopsis crassifolia
Florida native
An occasional wildflower found mostly in sandhills, glades and disturbed sites throughout the Florida panhandle east into Suwannee County, plus St. Johns, Volusia and Lake Counties. The range extends throughout most of the United States except for the Rocky Mountain states and the upper midwest. Also found in British Columbia and Ontario.
Both the ray and disk portion of the flowers are yellow, with the ray florets having three to five shallow lobes at the tip. Leaves are opposite, lanceolate to elliptic, sometimes with one or two lobes at the base and mostly on the lower portion of the stem.
---
Coreopsis lanceolata is a member of the Asteraceae - Aster family.
---
Other species of the Coreopsis genus in the Wild Florida Photo database:
View Coreopsis leavenworthii - LEAVENWORTH'S TICKSEED
View Coreopsis gladiata - COASTALPLAIN TICKSEED
View Coreopsis floridana - FLORIDA TICKSEED

---
Native Florida Plants
Robert G. Haehle; Joan Brookwell
Low Maintenance Landscaping and Gardening

Purchases of this ebook made by clicking the image link below help support this website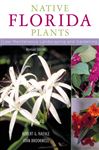 Native landscapes are easier to maintain, use less water and thrive without chemical pesticides and fertilizers. Native Florida Plants describes every type of regional flora—-from seaside foliage and wildflowers to grassy meadows, shrubs, vines, and aquatic gardens—-in 301 profiles and accompanying color photographs.
---