Click on the thumbnail to open the full size photo.
Click any of the thumbnails above to view the full sized photo in a lightbox.
Once opened, click on the right or left side of the images to scroll through the other images above.
Piriqueta cistoides
var. caroliniana
PITTED STRIPESEED
Florida native
A frequent perennial wildflower of pine flatwoods, sandhlls, hammocks and disturbed sites throughout much of Florida. Also ranging into Alabama, Georgia and South Carolina.
Flowers are yellow with five thin, veiny petals that are easily detached. Stems typically up to 51 cm (20 in.) long with alternate, mostly toothed pubescent leaves. Leaf shape is highly variable.
---
Piriqueta cistoides is a member of the Turneraceae - Turnera family.
---
Florida Wildflowers in Their Natural Communities
Walter Kingsley Taylor
Walter Taylor's guide will help readers recognize and identify wildflowers by where they're most likely to be found growing - their natural habitat.

Purchases made by clicking the image link below help support this website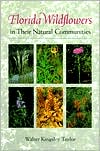 This book is the first of its kind for Florida. Taylor provides detailed descriptions and color photos of each community - pine flatwoods, sandhills, upland pine forest, scrub, temperate hardwood forest, coastal uplands, subtropical pine forest, tropical hardwood hammock, and ruderal sites - and of the wildflower species associated with each.
---