Click on the thumbnail to open the full size photo.
Click any of the thumbnails above to view the full sized photo in a lightbox.
Once opened, click on the right or left side of the images to scroll through the other images above.
Spermacoce keyensis
FLORIDA FALSE BUTTONWEED
Synonym: Spermacoce floridana
Florida native
A rare plant of the rock pinelands of Miami-Dade County and the Keys. Also found in Texas.
Florida false buttonweed has glabrous or scabrous stems and leaves. The calyx has four nearly equal solid green lobes. The fruits are 1-2 mm long.
I could find very little about this species and no photos, so I was not able to do a comparison of my photographs to help verify the correct identification. If anyone can confirm or correct the proper species for these photographs, I would very much like to hear from you. Contact information can be found on the Contact Page.
---
Spermacoce keyensis is a member of the Rubiaceae - Madder family.
---
Native Florida Plants
Robert G. Haehle; Joan Brookwell
Low Maintenance Landscaping and Gardening

Purchases of this ebook made by clicking the image link below help support this website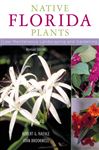 Native landscapes are easier to maintain, use less water and thrive without chemical pesticides and fertilizers. Native Florida Plants describes every type of regional flora—-from seaside foliage and wildflowers to grassy meadows, shrubs, vines, and aquatic gardens—-in 301 profiles and accompanying color photographs.
---