Click on the thumbnail to open the full size photo.
Click any of the thumbnails above to view the full sized photo in a lightbox.
Once opened, click on the right or left side of the images to scroll through the other images above.
Lilium catesbaei
PINE LILY
CATESBY'S LILY
SOUTHERN RED LILY
Florida native
Threatened Florida species

This distinctive lily is frequently found in moist flatwoods and savannas throughout much of Florida. The range extends through the southeastern coastal plain from Louisiana into Virginia.
The stalk of this erect herb grows to 60 cm (2 ft.) tall or more with alternate leaves. The leaves are sessile, lanceolate and reduced in size towards the top of the plant. The three petals are slightly wider than the sepals. Otherwise the six spreading tepals are similar in appearance, reddish orange with yellow bases containing purplish brown dots.
Lilium catesbaei is named after 18th century English naturalist Mark Catesby who travelled to the Carolinas and the Bahamas in the 1720's. Although he apparently never actually visited present day Florida, Catesby published Natural history of Carolina, Florida, and the Bahama Islands, a two volume collection of his paintings of the flora & fauna he found.


---
Lilium catesbaei is a member of the Liliaceae - Lily family.
---
Other species of the Lilium genus in the Wild Florida Photo database:
View Lilium superbum - TURK'S CAP LILY

---
Native Florida Plants
Robert G. Haehle; Joan Brookwell
Low Maintenance Landscaping and Gardening

Purchases of this ebook made by clicking the image link below help support this website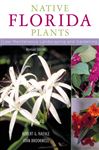 Native landscapes are easier to maintain, use less water and thrive without chemical pesticides and fertilizers. Native Florida Plants describes every type of regional flora—-from seaside foliage and wildflowers to grassy meadows, shrubs, vines, and aquatic gardens—-in 301 profiles and accompanying color photographs.
---
Atlas of Florida Vascular Plants (Institute for Systemic Botany) profile for this species
USDA Plant Profile for this species
Date record last modified:
Oct 09, 2017