Click on the thumbnail to open the full size photo.
Click any of the thumbnails above to view the full sized photo in a lightbox.
Once opened, click on the right or left side of the images to scroll through the other images above.
Calystegia sepium
var. limnophila
HEDGE FALSE BINDWEED
Florida native
An occasional, perennial twining vine of marshes and disturbed sites throughout much of Florida. The range of the species Calystegia sepium covers most of North America except for the arctic territories of Canada. The limnophila subspecies found in Florida also occurs through the southeast states south of the Ohio River, plus Louisiana, Texas, New Mexico. Nevada and California.
The funnel shaped flowers appear in the leaf axils at any time of year and are usually white, but sometimes tinged with pink or purple. Having one style and five stamens, the five separate sepals are covered, and almost completely hidden, by two ovate bracts. The alternate leaves are arrow shaped with angular lobes at the base.
---
Calystegia sepium is a member of the Convolvulaceae - Morning-glory family.
---
Native Florida Plants
Robert G. Haehle; Joan Brookwell
Low Maintenance Landscaping and Gardening

Purchases of this ebook made by clicking the image link below help support this website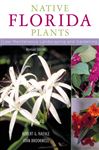 Native landscapes are easier to maintain, use less water and thrive without chemical pesticides and fertilizers. Native Florida Plants describes every type of regional flora—-from seaside foliage and wildflowers to grassy meadows, shrubs, vines, and aquatic gardens—-in 301 profiles and accompanying color photographs.
---