Click on the thumbnail to open the full size photo.
Click any of the thumbnails above to view the full sized photo in a lightbox.
Once opened, click on the right or left side of the images to scroll through the other images above.
Monarda punctata
SPOTTED BEEBALM
HORSEMINT
Florida native
Although the Monarda genus has many different species, only two are found in Florida, and of these only M. punctata is native. This species ranges through most of the central and eastern United States, plus California, Ontario and Quebec. Found throughout much of Florida in flatwoods, disturbed sites, and coastal areas.
The small two-lipped flowers are white or yellowish, with purple spots and are much less noticable than the colorful leaflike bracts below each globular cluster of flowers. Spotted beebalm, or horsemint, grows up to four feet tall, often in clumps. It has opposite, petioled, lanceolate leaves with toothed margins.
Some of these photos show a flower spider lying in wait for a victim. The Misumenops species page has more photos, including some of the spider with a captured small insect.
---
Monarda punctata is a member of the Lamiaceae - Mint family.
---
Florida Wildflowers in Their Natural Communities
Walter Kingsley Taylor
Walter Taylor's guide will help readers recognize and identify wildflowers by where they're most likely to be found growing - their natural habitat.

Purchases made by clicking the image link below help support this website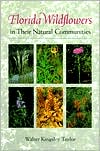 This book is the first of its kind for Florida. Taylor provides detailed descriptions and color photos of each community - pine flatwoods, sandhills, upland pine forest, scrub, temperate hardwood forest, coastal uplands, subtropical pine forest, tropical hardwood hammock, and ruderal sites - and of the wildflower species associated with each.
---