Click on the thumbnail to open the full size photo.
Click any of the thumbnails above to view the full sized photo in a lightbox.
Once opened, click on the right or left side of the images to scroll through the other images above.
Sagittaria kurziana
SPRINGTAPE
STRAP-LEAF SAGITTARIA
Florida native
An occasional plant of springs and spring runs in a two county wide range through the western side of the north peninsula from Hernando & Sumter Counties to Suwannee and Columbia Counties. Also found in Wakulla and Jefferson Counties of the eastern panhandle and Jackson County in Mississippi.
The flowers are typical of the Sagittaria genus, having three rounded petals on a branched stalk. In the case of S. kurziana the flowers may be underwater, laying on the surface, or erect just above the water. Springtape has ribbon-like leaves typically about 2 cm (3/4 in.) wide and 60 cm to a meter or more (2-3 ft. or more) long, but sometimes much shorter. The leaves have pointed tips and three to five prominent parallel ridges that run the length of the leaf. These leaf features help distinguish Sagittaria kurziana from the similar tape grass (Vallisneria americana).
More information about springtape and a short video can be found on the University of Florida IFAS Center for Aquatic and Invasive Plants website.
---
Sagittaria kurziana is a member of the Alismataceae - Water-plantain family.
---
Other species of the Sagittaria genus in the Wild Florida Photo database:
View Sagittaria graminea var. graminea - GRASSY ARROWHEAD
View Sagittaria isoetiformis - QUILLWORT ARROWHEAD
View Sagittaria lancifolia - BULLTONGUE ARROWHEAD

---
Native Florida Plants
Robert G. Haehle; Joan Brookwell
Low Maintenance Landscaping and Gardening

Purchases of this ebook made by clicking the image link below help support this website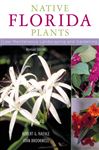 Native landscapes are easier to maintain, use less water and thrive without chemical pesticides and fertilizers. Native Florida Plants describes every type of regional flora—-from seaside foliage and wildflowers to grassy meadows, shrubs, vines, and aquatic gardens—-in 301 profiles and accompanying color photographs.
---
Atlas of Florida Vascular Plants (Institute for Systemic Botany) profile for this species
USDA Plant Profile for this species
Date record last modified:
Aug 07, 2016