Click on the thumbnail to open the full size photo.
Click any of the thumbnails above to view the full sized photo in a lightbox.
Once opened, click on the right or left side of the images to scroll through the other images above.
Phoradendron leucarpum
OAK MISTLETOE
AMERICAN MISTLETOE
Florida native
A frequent parasitic plant of various trees, usually hardwoods, throughout most of Florida. The range extends throughout the southeastern states, west to New Mexico and Kansas, and north into Illinois through New York.
Mistletoe has a clumping, ball-shaped growth form. Leaves are opposite,, thick, leathery and evergreen. Phoradendron leucarpum has white or yellowish-white berries.
Oak mistletoe is a larval host plant for Atlides halesus, the great purple hairstreak butterfly.
This is the only mistletoe species in most of Florida. Mahogany mistletoe - Phoradendron rubrum - only occurs in Miami-Dade County and the Florida Keys. It has berries that are lemon-yellow to orange.
---
Phoradendron leucarpum is a member of the Viscaceae - Christmas Mistletoe family.
---
Native Florida Plants
Robert G. Haehle; Joan Brookwell
Low Maintenance Landscaping and Gardening

Purchases of this ebook made by clicking the image link below help support this website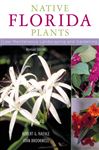 Native landscapes are easier to maintain, use less water and thrive without chemical pesticides and fertilizers. Native Florida Plants describes every type of regional flora—-from seaside foliage and wildflowers to grassy meadows, shrubs, vines, and aquatic gardens—-in 301 profiles and accompanying color photographs.
---
Atlas of Florida Vascular Plants (Institute for Systemic Botany) profile for this species
USDA Plant Profile for this species
Date record last modified:
Aug 07, 2016