Click on the thumbnail to open the full size photo.
Click any of the thumbnails above to view the full sized photo in a lightbox.
Once opened, click on the right or left side of the images to scroll through the other images above.
Hypericum chapmanii
APALACHICOLA ST.JOHN'S-WORT
SPONGE-BARK HYPERICUM
Florida native
Endemic to Florida
An occasional plant of wet flatwoods, bogs and cypress pond margins in the Florida panhandle between the Ochlockonee and Escambia Rivers.
Usually growing from one to four meters (3 - 13 ft.) high and much branched above. The bark of older stems is soft and spongy, becoming 1-2 cm (3/8 - 7/8 in.) thick. Apalachicola St. John's-wort blooms in the summer, usually solitary in the leaf axils, but sometimes in clusters of three. Flowers are yellow with five petals and sepals, with a mass of showy stamens in the center. Small needle-like leaves are 8-25 mm (1/3 - 1 in.) long and crowded at the nodes of branches and branchlets.
---
Hypericum chapmanii is a member of the Clusiaceae - Mangosteen family.
---
Other species of the Hypericum genus in the Wild Florida Photo database:
View Hypericum cistifolium - ROUNDPOD ST. JOHNSWORT
View Hypericum fasciculatum - SANDWEED
View Hypericum hypericoides - ST.ANDREW'S-CROSS
View Hypericum brachyphyllum - COASTALPLAIN ST.JOHN'S-WORT
View Hypericum edisonianum - ARCADIAN ST.JOHN'S-WORT
View Hypericum mutilum - DWARF ST.JOHN'S-WORT
View Hypericum myrtifolium - MYRTLELEAF ST.JOHN'S-WORT
View Hypericum tetrapetalum - FOURPETAL ST.JOHN'S-WORT
View Hypericum canadense - LESSER CANADIAN ST.JOHN'S-WORT
View Hypericum tenuifolium - ATLANTIC ST.JOHN'S-WORT
View Hypericum cumulicola - HIGHLANDS SCRUB ST.JOHN'S-WORT

---
Native Florida Plants
Robert G. Haehle; Joan Brookwell
Low Maintenance Landscaping and Gardening

Purchases of this ebook made by clicking the image link below help support this website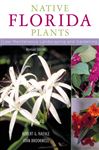 Native landscapes are easier to maintain, use less water and thrive without chemical pesticides and fertilizers. Native Florida Plants describes every type of regional flora—-from seaside foliage and wildflowers to grassy meadows, shrubs, vines, and aquatic gardens—-in 301 profiles and accompanying color photographs.
---
Atlas of Florida Vascular Plants (Institute for Systemic Botany) profile for this species
USDA Plant Profile for this species
Date record last modified:
Aug 07, 2016