Click on the thumbnail to open the full size photo.
Click any of the thumbnails above to view the full sized photo in a lightbox.
Once opened, click on the right or left side of the images to scroll through the other images above.
Houstonia procumbens
INNOCENCE
ROUNDLEAF BLUET
Synonym: Hedyotis rotundifolia
Florida native
A common perennial of sandhills, dunes, flatwoods, hammocks and disturbed sites throughout most of Florida. The range extends through the southeastern coastal plain from Louisiana into South Carolina.
The tiny white four-petaled flowers are solitary on erect pedicels. Four small calyx lobes are at the base of and much shorter than the corolla tube. Oval to nearly round leaves are opposite on prostate stems.
---
Houstonia procumbens is a member of the Rubiaceae - Madder family.
---
Native Florida Plants
Robert G. Haehle; Joan Brookwell
Low Maintenance Landscaping and Gardening

Purchases of this ebook made by clicking the image link below help support this website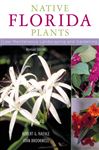 Native landscapes are easier to maintain, use less water and thrive without chemical pesticides and fertilizers. Native Florida Plants describes every type of regional flora—-from seaside foliage and wildflowers to grassy meadows, shrubs, vines, and aquatic gardens—-in 301 profiles and accompanying color photographs.
---