Click on the thumbnail to open the full size photo.
Click any of the thumbnails above to view the full sized photo in a lightbox.
Once opened, click on the right or left side of the images to scroll through the other images above.
Kalmia hirsuta
WICKY
HAIRY LAUREL
SANDHILL LAUREL
Florida native
A frequent small shrub of flatwoods, scrub and coastal swales in the panhandle and northern Florida, south into Lake and Hernando Counties. The range includes Alabama, Georgia and South Carolina.
Wicky typically blooms from spring to early fall either solitary or in clusters of two to three flowers that are more often pink, but sometimes white. The five petals are fused into a cup shape with 10 stamens initially held under tension with the anthers tucked into small - sometimes reddish - pockets that form a circle in the bottom of the cup. When a pollinator lands on the flower, the spring-loaded stamens are released spreading pollen onto the insect. The very small leaves are simple and entire, alternate, elliptic, oval or oblanceolate, 5-15mm (< 2/3 in.) long and 2-8mm (<1/3 in.) wide, with tiny hairs. The fruit is a rounded capsule 2-3mm (<1/8 in.) in diameter.
Kalmia hirsuta is differentiated from K. latifolia by the hairy leaves and short stature, usually less than 0.6 m (2 ft.), but sometimes as tall as 1m (39 in.).


---
Kalmia hirsuta is a member of the Ericaceae - Heath family.
---
Other species of the Kalmia genus in the Wild Florida Photo database:
View Kalmia latifolia - MOUNTAIN LAUREL

---
Native Florida Plants
Robert G. Haehle; Joan Brookwell
Low Maintenance Landscaping and Gardening

Purchases of this ebook made by clicking the image link below help support this website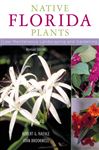 Native landscapes are easier to maintain, use less water and thrive without chemical pesticides and fertilizers. Native Florida Plants describes every type of regional flora—-from seaside foliage and wildflowers to grassy meadows, shrubs, vines, and aquatic gardens—-in 301 profiles and accompanying color photographs.
---
Atlas of Florida Vascular Plants (Institute for Systemic Botany) profile for this species
USDA Plant Profile for this species
Date record last modified:
Jan 25, 2018