Click on the thumbnail to open the full size photo.
Click any of the thumbnails above to view the full sized photo in a lightbox.
Once opened, click on the right or left side of the images to scroll through the other images above.
Kalmia latifolia
MOUNTAIN LAUREL
Florida native
Threatened Florida species

An occasional shrub of bluff forests and creek swamps from Leon County west through the panhandle, plus Suwannee County. The range extends throughout the eastern United States mostly east of the Mississippi River, but only as far west as Indiana in the north. Kalmia latifolia is listed as an exotic species in Quebec and Ontario.
This shrub is many branching and can grow to 9m (30 ft.) tall, becoming a small evergreen tree. The showy flowers appear in branched clusters in the early spring. Flowers are white to pink, cup-shaped with 10 stamens that initially have the anthers tucked into small pockets in the petals. When a pollinator lands on the flower, the spring-loaded stamens are released spreading pollen onto the insect. Leaves are closely alternate, elliptic to lanceolate, simple, entire, 2-10 (3/4-4 in.) cm long and 2.5-5 cm (1-3 in.) wide. The fruit is a small five-lobed capsule containing tiny seeds.
Kalmia latifolia is differentiated from K. hirsuta by being glabrous and over 0.5 m (20 in.) tall.
Mountain laurel can be a beautiful landscape plant, but is difficult to grow and does not transplant well, so it is best left alone after becoming established.
---
Kalmia latifolia is a member of the Ericaceae - Heath family.
---
Other species of the Kalmia genus in the Wild Florida Photo database:
View Kalmia hirsuta - WICKY

---
Native Florida Plants
Robert G. Haehle; Joan Brookwell
Low Maintenance Landscaping and Gardening

Purchases of this ebook made by clicking the image link below help support this website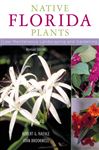 Native landscapes are easier to maintain, use less water and thrive without chemical pesticides and fertilizers. Native Florida Plants describes every type of regional flora—-from seaside foliage and wildflowers to grassy meadows, shrubs, vines, and aquatic gardens—-in 301 profiles and accompanying color photographs.
---