Click on the thumbnail to open the full size photo.
Click any of the thumbnails above to view the full sized photo in a lightbox.
Once opened, click on the right or left side of the images to scroll through the other images above.
Lyonia lucida
FETTERBUSH
FETTERBUSH LYONIA
Florida native
A common shrub of flatwoods, bogs and cypress ponds throughout nearly all of Florida. The range extends through the southeastern coastal states from Louisiana into Virginia, plus Cuba.
While fetterbush can grow to 4-5 m (13 to 16-1/2 ft.) tall, it is often much shorter. For instance, the plants pictured here were less than 6 dm (2 ft.) tall and a large patch of Lyonia lucida seen the day before in another area of the same county were all about 1.2 m (4 ft.) tall.
Flowers are urn shaped, varying from white through shades of pink to almost red and borne in clusters at the leaf axils. Leaves are alternate, simple, elliptic, 2-8 cm (3/4-3 in.) long and 1-4 cm (~1/2 - 1-1/2 in.) wide. The margin is closely paralleled by a distinctive vein that gives the leaves the appearance of being slightly revolute. Fruit is a capsule, either rounded or urn-shaped, about 5mm (<1/4 in.) long. Characteristics of this species are corollas only 2-2.5 times longer than the calyx, and the submarginal vein on the leaves.


---
Lyonia lucida is a member of the Ericaceae - Heath family.
---
Other species of the Lyonia genus in the Wild Florida Photo database:
View Lyonia ferruginea - RUSTY STAGGERBUSH

---
Native Florida Plants
Robert G. Haehle; Joan Brookwell
Low Maintenance Landscaping and Gardening

Purchases of this ebook made by clicking the image link below help support this website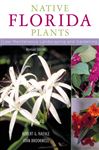 Native landscapes are easier to maintain, use less water and thrive without chemical pesticides and fertilizers. Native Florida Plants describes every type of regional flora—-from seaside foliage and wildflowers to grassy meadows, shrubs, vines, and aquatic gardens—-in 301 profiles and accompanying color photographs.
---
Atlas of Florida Vascular Plants (Institute for Systemic Botany) profile for this species
USDA Plant Profile for this species
Date record last modified:
Oct 20, 2017