Click on the thumbnail to open the full size photo.
Click any of the thumbnails above to view the full sized photo in a lightbox.
Once opened, click on the right or left side of the images to scroll through the other images above.
Hieracium gronovii
QUEEN-DEVIL
HAIRY HAWKWEED
BEAKED HAWKWEED
Florida native
An occasional wildflower of sandhills and flatwoods from Tampa Bay to Brevard County northward. Found throughout much of the eastern United States west into Texas, Oklahoma & Kansas, northwest into Missouri, Illinois & Michigan, ranging eastward to Maine, excluding Vermont & New Hampshire, also in Ontario.
The yellow flowers appear in elongated panicles from summer through early winter. Flowers have from a dozen to over 20 ray florets with toothed tips. Disk florets absent. Floral branches and overlapping pointed bracts having stalked glands. The mostly basal leaves are hairy, oblanceolate to lanceolate, with stem leaves alternate and reduced upward. The lower stem is typically piloso-hirsute with hairs form 2-4mm (1/16 - 3/16 in.) or longer. Upper stem less hairy, often stellate-pubescent. Plants can reach up to 1m (~3 ft.), although more often 30-45cm (12-18 in.) tall.
Another wildflower with somewhat similar looking flowers but not in branched panicles is Carolina desertchickory.
---
Hieracium gronovii is a member of the Asteraceae - Aster family.
---
Native Florida Plants
Robert G. Haehle; Joan Brookwell
Low Maintenance Landscaping and Gardening

Purchases of this ebook made by clicking the image link below help support this website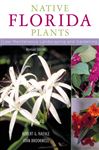 Native landscapes are easier to maintain, use less water and thrive without chemical pesticides and fertilizers. Native Florida Plants describes every type of regional flora—-from seaside foliage and wildflowers to grassy meadows, shrubs, vines, and aquatic gardens—-in 301 profiles and accompanying color photographs.
---
Atlas of Florida Vascular Plants (Institute for Systemic Botany) profile for this species
USDA Plant Profile for this species
Date record last modified:
Aug 07, 2016