Click on the thumbnail to open the full size photo.
Click any of the thumbnails above to view the full sized photo in a lightbox.
Once opened, click on the right or left side of the images to scroll through the other images above.
Penstemon multiflorus
MANYFLOWER BEARDTONGUE
Florida native
A frequent plant of sandhills and flatwoods throughout much of Florida, also ranging into southern Georgia and Alabama.
This perennial grows to a meter tall or more. The stem is smooth, reddish with opposite branches and leaves which are also sessile. The white bell-shaped, nodding flowers are in terminal panicles. The corolla is 5-lobed and 2-lipped with the lower lip having 3 lobes. The calyx is also 5-lobed and hairy. There are 4 curved fertile stamens and one hairy, straight, infertle stamen that gives this plant its common name.
---
Penstemon multiflorus is a member of the Scrophulariaceae - Figwort family.
---
Other species of this genus in the Wild Florida Photo database:
View Penstemon laevigatus - EASTERN SMOOTH BEARDTONGUE

---
Florida Wildflowers in Their Natural Communities
Walter Kingsley Taylor
Walter Taylor's guide will help readers recognize and identify wildflowers by where they're most likely to be found growing - their natural habitat.

Purchases made by clicking the image link below help support this website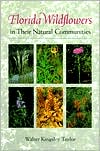 This book is the first of its kind for Florida. Taylor provides detailed descriptions and color photos of each community - pine flatwoods, sandhills, upland pine forest, scrub, temperate hardwood forest, coastal uplands, subtropical pine forest, tropical hardwood hammock, and ruderal sites - and of the wildflower species associated with each.
---