Click on the thumbnail to open the full size photo.
Click any of the thumbnails above to view the full sized photo in a lightbox.
Once opened, click on the right or left side of the images to scroll through the other images above.
Eubotrys racemosa
SWAMP DOGHOBBLE
FETTER-BUSH
Synonym: Leucothoe racemosa
Florida native
A frequent shrub of wet flatwoods, acid swamps and riverbanks in most of the panhandle and north Florida ranging south into the interior counties of the central peninsula. The range includes the southeast west into Louisiana and Texas, north into Tennessee and the Atlantic coast states as far as Massachusetts, plus Pennsylvania & New York.
The showy racemes of flowers appear in April and May and are from 2 to 10 cm (3/4 to 4 in.) long. Flowers are cylindrical, about 8mm (~1/3 in.) long and white, tinged with pink. Leaves are alternate, elliptic to oval, 1-5 cm (.4-2 in.) long and .5-3cm (.2-1.2 in.) wide. Both surfaces are at least partially pubescent and the margins are obscurely crenate to serrate.
Eubotrys racemosa can be distingushed from coastal doghobble (Leucothoe axillaris) by the tardily deciduous leaves that have at least some pubescence on the upper surface.
---
Eubotrys racemosa is a member of the Ericaceae - Heath family.
---
Native Florida Plants
Robert G. Haehle; Joan Brookwell
Low Maintenance Landscaping and Gardening

Purchases of this ebook made by clicking the image link below help support this website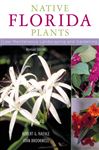 Native landscapes are easier to maintain, use less water and thrive without chemical pesticides and fertilizers. Native Florida Plants describes every type of regional flora—-from seaside foliage and wildflowers to grassy meadows, shrubs, vines, and aquatic gardens—-in 301 profiles and accompanying color photographs.
---
Atlas of Florida Vascular Plants (Institute for Systemic Botany) profile for this species
USDA Plant Profile for this species
Date record last modified:
Aug 07, 2016