There are no photos available for this species.
Coreopsis floridana
FLORIDA TICKSEED
Florida native
Endemic to Florida
A frequent wildflower of wet flatwoods throughout much of the central and southern peninsula and along the big bend into all but the most western panhandle, plus Nassau County.
The flowers are stalked with yellow ray florets having lobed tips and dark brown disk florets. Grows up to a meter (~3ft.) tall or more with alternate leaves, reduced and clasping above, the lowermost stalked. Leaves are spatulate with entire margins and may be glabrous or pubescent. The outer bracts of the flowers are triangular.
---
Coreopsis floridana is a member of the Asteraceae - Aster family.
---
Other species of the Coreopsis genus in the Wild Florida Photo database:
View Coreopsis leavenworthii - LEAVENWORTH'S TICKSEED
View Coreopsis gladiata - COASTALPLAIN TICKSEED
View Coreopsis lanceolata - LANCELEAF TICKSEED

---
Native Florida Plants
Robert G. Haehle; Joan Brookwell
Low Maintenance Landscaping and Gardening

Purchases of this ebook made by clicking the image link below help support this website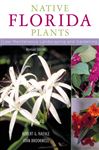 Native landscapes are easier to maintain, use less water and thrive without chemical pesticides and fertilizers. Native Florida Plants describes every type of regional flora—-from seaside foliage and wildflowers to grassy meadows, shrubs, vines, and aquatic gardens—-in 301 profiles and accompanying color photographs.
---
Atlas of Florida Vascular Plants (Institute for Systemic Botany) profile for this species
USDA Plant Profile for this species
Date record last modified:
Aug 07, 2016