Click on the thumbnail to open the full size photo.
Click any of the thumbnails above to view the full sized photo in a lightbox.
Once opened, click on the right or left side of the images to scroll through the other images above.
Chenopodium ambrosioides
MEXICAN TEA
WORMSEED GOOSEFOOT
Not native to Florida
This native of tropical America can now be found in disturbed sites throughout most of Florida. It is now introduced in nearly all of the lower 48 states except for Minnesota, North Dakota, Montana and Wyoming. Also introduced in Hawaii, Puerto Rico, the Virgin Islands, Ontario, Quebec and Nova Scotia.
Flowers are tiny in spike-like clusters. There are five green sepals, but no petals. The five stamens have thick white anthers that present the appearance of petals. Stems are grooved, mostly erect, often branched to about a meter tall (~ 3') can be up to 1.5m (5'). Leaves are alternate, petioled, lanceolate to lance-elliptic, toothed and dotted with minute glands on the lower surface. The plant has a pungent odor.
---
Chenopodium ambrosioides is a member of the Amaranthaceae - Amaranth family.
---
Native Florida Plants
Robert G. Haehle; Joan Brookwell
Low Maintenance Landscaping and Gardening

Purchases of this ebook made by clicking the image link below help support this website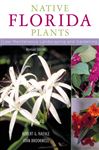 Native landscapes are easier to maintain, use less water and thrive without chemical pesticides and fertilizers. Native Florida Plants describes every type of regional flora—-from seaside foliage and wildflowers to grassy meadows, shrubs, vines, and aquatic gardens—-in 301 profiles and accompanying color photographs.
---
Atlas of Florida Vascular Plants (Institute for Systemic Botany) profile for this species
USDA Plant Profile for this species
Date record last modified:
Aug 07, 2016