Click on the thumbnail to open the full size photo.
Click any of the thumbnails above to view the full sized photo in a lightbox.
Once opened, click on the right or left side of the images to scroll through the other images above.
Plumbago zeylanica
DOCTORBUSH
CEYLON LEADWORT
CHITRAK
Synonym: Plumbago scandens
Florida native
An occasional perennial in coastal hammocks of the central and south peninsula of Florida. The range includes Texas, Arizona, Puerto Rico and the Virgin Islands and extends throughout the tropical portions of the Americas, Africa and Asia (pantropical).
Doctorbush is a sprawling woody shrub with vinelike branches 1 m (39 in.) or more in length. Leaves are alternate, ovate to elliptical-lanceolate and entire. Petioles do not have basal auricles. The white flowers are salverform and appear in terminal spikes 10-13cm (4-5 in.) long. The calyx is five lobed with stalked glands the entire length,
In Florida, Plumbago zeylanica is a larval host plnat for the Cassius Blue butterfly.
---
Plumbago zeylanica is a member of the Plumbaginaceae - Leadwort family.
---
Other species of the Plumbago genus in the Wild Florida Photo database:
View Plumbago auriculata - CAPE LEADWORT

---
Native Florida Plants
Robert G. Haehle; Joan Brookwell
Low Maintenance Landscaping and Gardening

Purchases of this ebook made by clicking the image link below help support this website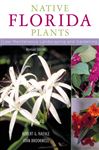 Native landscapes are easier to maintain, use less water and thrive without chemical pesticides and fertilizers. Native Florida Plants describes every type of regional flora—-from seaside foliage and wildflowers to grassy meadows, shrubs, vines, and aquatic gardens—-in 301 profiles and accompanying color photographs.
---
Atlas of Florida Vascular Plants (Institute for Systemic Botany) profile for this species
USDA Plant Profile for this species
Date record last modified:
Aug 07, 2016