Click on the thumbnail to open the full size photo.
Click any of the thumbnails above to view the full sized photo in a lightbox.
Once opened, click on the right or left side of the images to scroll through the other images above.
Monotropa hypopithys
PINESAP
FALSE BEECHDROPS
Florida native
Endangered Florida species
This distinctive plant is rare in Florida, appearing in mesic hammocks in only four counties: Marion, Lake, Walton & Okaloosa. The range extends throughout much of North America.
Pinesap can be distinguished from the closely related and similar indianpipe by having several flowers per stem. Like indianpipe it often grows in clusters. Monotropa hypopithys has scales instead of leaves, is usually 10-25cm (4-10 in.) tall and yellowish-red, but can be pale yellow to nearly white. Flowers are urn-shaped and nodding. Fruit is a capsule that becomes erect when mature.
---
Monotropa hypopithys is a member of the Monotropaceae - Indian Pipe family.
---
Other species of the Monotropa genus in the Wild Florida Photo database:
View Monotropa uniflora - INDIANPIPE

---
Native Florida Plants
Robert G. Haehle; Joan Brookwell
Low Maintenance Landscaping and Gardening

Purchases of this ebook made by clicking the image link below help support this website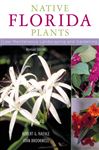 Native landscapes are easier to maintain, use less water and thrive without chemical pesticides and fertilizers. Native Florida Plants describes every type of regional flora—-from seaside foliage and wildflowers to grassy meadows, shrubs, vines, and aquatic gardens—-in 301 profiles and accompanying color photographs.
---
Atlas of Florida Vascular Plants (Institute for Systemic Botany) profile for this species
USDA Plant Profile for this species
Date record last modified:
Aug 07, 2016