Click on the thumbnail to open the full size photo.
Click any of the thumbnails above to view the full sized photo in a lightbox.
Once opened, click on the right or left side of the images to scroll through the other images above.
Utricularia cornuta
HORNED BLADDERWORT
Florida native
A frequent small plant of pond and lake margins and bogs throughout most of Florida. Horned bladderwort can be found, although sometimes in few locations, in all of the states east of the Mississippi River, plus Texas, Louisiana, Arkansas, Minnesota and Washington. In Canada it occurs mostly near the Great Lakes and coastal areas, and not in British Columbia nor the territories.
The leaves, stems and bladders of this terrestrial herb are underground, with only the flowering scape appearing above ground. Utricularia cornuta has 2 to 5 yellow flowers on a 10-25.5cm (4-10 in.) long leafless stalk. The lower expanded flowers reach up to or exceed the unopened buds above them. The corollas are two-lipped, with the lower lip at least 13mm (1/2 in.) long, a downward pointing spur 7-14mm (1/4 - 1/2 in.) long and an elevated palate.


---
Utricularia cornuta is a member of the Lentibulariaceae - Bladderwort family.
---
Other species of the Utricularia genus in the Wild Florida Photo database:
View Utricularia subulata - ZIGZAG BLADDERWORT
View Utricularia resupinata - LAVENDER BLADDERWORT

---
Native Florida Plants
Robert G. Haehle; Joan Brookwell
Low Maintenance Landscaping and Gardening

Purchases of this ebook made by clicking the image link below help support this website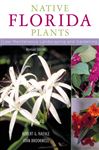 Native landscapes are easier to maintain, use less water and thrive without chemical pesticides and fertilizers. Native Florida Plants describes every type of regional flora—-from seaside foliage and wildflowers to grassy meadows, shrubs, vines, and aquatic gardens—-in 301 profiles and accompanying color photographs.
---
Atlas of Florida Vascular Plants (Institute for Systemic Botany) profile for this species
USDA Plant Profile for this species
Date record last modified:
Aug 07, 2016