Click on the thumbnail to open the full size photo.
Click any of the thumbnails above to view the full sized photo in a lightbox.
Once opened, click on the right or left side of the images to scroll through the other images above.
Sarracenia leucophylla
WHITETOP PITCHERPLANT
WHITE TRUMPET
CRIMSON PITCHER PLANT
Florida native
Endangered Florida species
A frequent pitcherplant of bogs, seepage slopes, wet prairies, and acid swamps from Leon & Franklin Counties west through much of the panhandle. The range extends into Mississippi, Alabama and Georgia, plus North Carolina.
The erect pitchers are green on the lower part and white on the upper portion with red reticulate markings. The hood margin is undulate, or wavy. The pink to dark red flowers have 5 sepals and petals and unbrella-like styles. Flowers appear at the end of tall stalks.


---
Sarracenia leucophylla is a member of the Sarraceniaceae - Pitcher-plant family.
---
Other species of the Sarracenia genus in the Wild Florida Photo database:
View Sarracenia flava - YELLOW PITCHERPLANT
View Sarracenia minor - HOODED PITCHERPLANT
View Sarracenia psittacina - PARROT PITCHERPLANT
View Sarracenia x naczii - natural hybrid of S. flava & S. rosea
View Sarracenia rosea - GULF PURPLE PITCHERPLANT

---
Native Florida Plants
Robert G. Haehle; Joan Brookwell
Low Maintenance Landscaping and Gardening

Purchases of this ebook made by clicking the image link below help support this website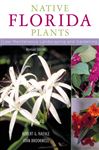 Native landscapes are easier to maintain, use less water and thrive without chemical pesticides and fertilizers. Native Florida Plants describes every type of regional flora—-from seaside foliage and wildflowers to grassy meadows, shrubs, vines, and aquatic gardens—-in 301 profiles and accompanying color photographs.
---
Atlas of Florida Vascular Plants (Institute for Systemic Botany) profile for this species
USDA Plant Profile for this species
Date record last modified:
Sep 27, 2017