Not native to Florida
Florida Exotic Pest Plant Council: Category I designation
This plant is an invasive exotic that is altering native plant communities by displacing native species, changing community structures or ecological functions, or hybridizing with natives.
This species should never be planted (many with this designation are prohibited by law), and generally should be removed whenever possible.
A common invasive plant that has aggressively spread throughout the central and south peninsula up into Levy County on the west coast, to Duval County on the east coast, plus Franklin County in the panhandle. Native to Brazil, Schinus terebinthifolia is now also present in Hawaii, California, Texas, Puerto Rico and the Virgin Islands.
The conspicuous clusters of bright red drupes - or berries - are most numerous from November through February, but may be present at any time of the year. The leaves are alternate, pinnately compound with three to nine leaflets (rarely 11). The leaflets are lanceolate to elliptic, up to 8cm (~3 in.) long, often with toothed margins. Flowers are small and white, numerous in clusters growing from the leaf axils. Brazilian peppertree grows to 8 meters (26 ft.) tall, and will form extensive monospecific stands, out-competing native plants.
The species name terebinthifolia refers to the turpentine odor of the leaves. As with a number of other members of the Anacardiaceae family, Brazialian peppertree has poisonous qualities. People with a sensitivity to poison ivy should especially avoid contact with this plant.
The small drupes are eaten by many birds, especially mockingbirds, robins and cedar waxwings, which then distribute the seeds in their droppings.
---
Schinus terebinthifolius is a member of the Anacardiaceae - Cashew & Sumac family.
---
Native Florida Plants
Robert G. Haehle; Joan Brookwell
Low Maintenance Landscaping and Gardening

Purchases of this ebook made by clicking the image link below help support this website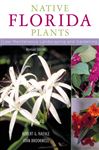 Native landscapes are easier to maintain, use less water and thrive without chemical pesticides and fertilizers. Native Florida Plants describes every type of regional flora—-from seaside foliage and wildflowers to grassy meadows, shrubs, vines, and aquatic gardens—-in 301 profiles and accompanying color photographs.
---
Atlas of Florida Vascular Plants (Institute for Systemic Botany) profile for this species
USDA Plant Profile for this species
Date record last modified:
Aug 07, 2016