CURTISS' MILKWEED
Asclepias curtissii
National Wildlife Federation Field Guide to Wildflowers of North America
David M. Brandenburg
This wildflower guide contains three photographs by Paul Rebmann:
Habenaria floribunda
,
Eulophia alta
, &
Vanilla phaeantha
.
Wherever even the smallest green thing grows, there you'll find wildflowers, be they huge, showy tropical blossoms or pretty, tiny bloomers. North America alone is home to thousands of species and the National Wildlife Federation Field Guide celebrates that wide diversity in grand fashion. From Acanthaceae to Zygophyllaceaei, this beautiful, portable volume provides the common and scientific names for each flower family; information on the flowering season; leaf, stalk, and blossom descriptions, with measurements; and color range maps of more than 700 species for both native and introduced types. There's no better guide to take along while camping, hiking, or enjoying a nature walk. More than 2,200 species of wildflowers in a single, portable volume with 4,019 stunning color photographs by leading nature photographers, including Paul Rebmann and Daniel Reed. Wildflowers are arranged by genus and include genus descriptions and range maps with captions highlighting important field marks plus information on season and habitat for each species. Fruit illustrations are included for several plant families and range maps shows U.S. distribution. There is a separate section on species introduced into North America. The quick-identification key is arranged by color and shape with a detailed, illustrated visual glossary of flower parts and leaf types. There are essays on wildflower habitats and conservation and the cover is waterproof for use in the field. David M. Brandenburg, Ph.D., is the taxonomic botanist at The Dawes Arboretum in Newark, Ohio. He worked as a field botanist for the Ohio Department of Natural Resources and served ascurator of the herbarium at the Brooklyn Botanic Garden, New York. David has traveled tens of thousands of miles throughout North America, seeking plants from Alaska and Canada to Mexico and every state in between.
Purchase or get more information by clicking on the following image/link: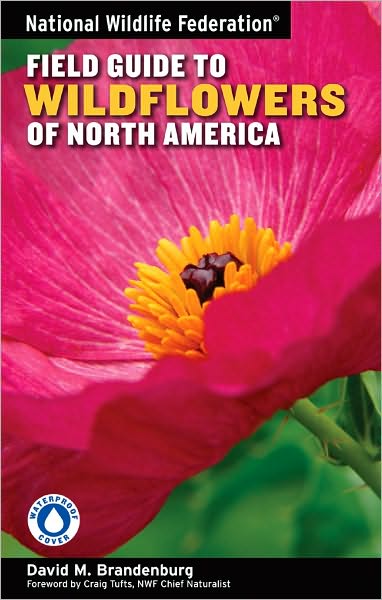 ---